One man's fight against a billion-dollar industry of chocolate-giants who ruthlessly exploit illegal child labour in their production. Investigations in cocoa plantations meets intense courtroom drama.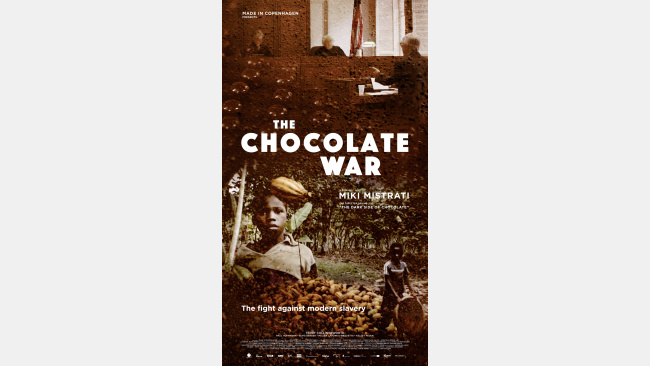 Twenty years ago, the world's biggest cocoa producers signed an agreement to end child slavery. Since then, the appalling abuse has only got worse. US lawyer Terry Collingsworth is working hard to bring the chocolate giants to justice and has dedicated his life to the abolition of slavery and human trafficking, and to fighting the food giants and their army of lawyers. Collingsworth is trying to convict Nestlé and Cargill of systematically exploiting children in Ivory Coast cocoa production. And now the case has finally reached the US Supreme Court. To prepare for the trial, Terry Collingsworth will gather more evidence. In Mali, he meets his six key witnesses before travelling on to Ivory Coast's cocoa plantations, where a centre for the rehabilitation of enslaved children turns out to be as fake and empty as a movie set, supported by governments and NGOs, but unused and with no children in sight. All in the quest to keep the price of cocoa beans low.
'The Chocolate War' is the third in the series of chocolate films directed by Miki Mistrati.
Cast:
Terry Collingsworth Paul Hoffmann Melina Cardinal-Bradette Kelsey Peden
Impact Producer:
Mette Bjerregaard, MEBJ@dr.dk
Co-producer:
Christian Falch, Ingrid Aune Falch, Torstein Perelius & Jonathan Borgen Lie
Cinematographer:
Henrik Ipsen Emil Langballe Nelson Walker
Editor:
Andreas Birch Jacob Andersen
In co-production with:
Up North Films DRTV NFI NFTF Film Fyn Danida SVT NRK
CPH:DOX 2022
Cinema for Peace
Warsaw International Film Festival
Human Rights Film Festival in Berlin
Toronto Food Festival
Rai's Prix Italia
Films for future Festival in Zurich 
CPH:DOX 2022 - Nominated for an F:ACT AWARD
Nominated for Cinema For Justice Award
Warsaw International Film Festival - Nominated for Best Documentary
Rai's Prix Italia - Nominated for Best TV Documentary
US distribution:
cristine.platt.dewey@rocofilms.com
All other queries:
hello@madeincopenhagen.dk